The Corvinus University had that honour that Ban Ki-moon, the Secretary General of the United Nations, is now our honorary Doctorate. The celebration took place on 2013.10.09.
"Köszönöm, hogy Közgázos lehetek!" He began his speech with this Hungarian sentence which means that "I'm grateful to be a member of the Corvinus University". He spoke about the similarity of the object of our university and the UN. "Building a peaceful and better world!"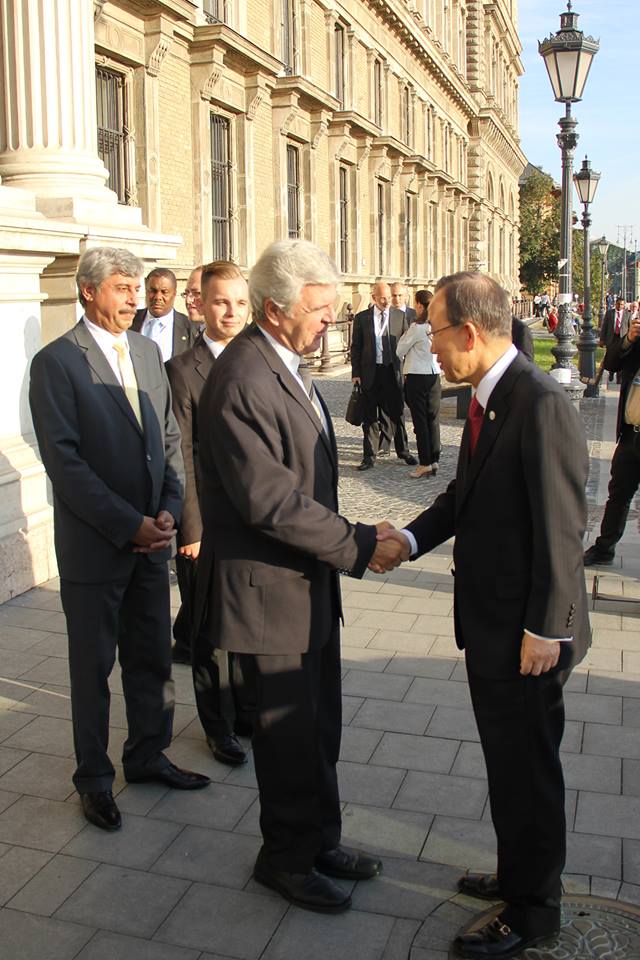 photo: Ádám Hajas,Corvinus Media
First of all he began his speech with a story from his childhood. When the revolution broke out in Hungary in 1956, he was an elementary school student. It was just a few years after the war between the two Koreas, and he had a speech in the school in which he mentioned our nation. That's the reason why he feels sympathy for the Hungarians: our love of freedom.
He spoke about the actual achievements of the UN, for example the Syrian situation and the disarmament of chemical weapons in the country. Thanks to this, a military intervention had become avoidable. His Excellency recorded it as a great success of the diplomacy.
The UN will make every effort against the contravention of human rights. He also spoke about the future plans and he highlighted that the sustainability is really important. So the reduction of the green house gases, plans to slow down the climate change, plans against the poverty and famine is on the primary purposes of the organization.
Hungary is no exception. We have to do every effort to create a better world. He asked us to be cosmopolitan and to think worldwide. With these, we can reach a peaceful world.
by István Kárász